Do you always try to keep your home neat and tidy? Well, this is a great habit. It will keep your homes clean and tidy at all times. It will make sure that your house is germ and bacteria free. One of the most common places which usually becomes dirty and greasy is the kitchen. That is why we must take special efforts in cleaning each and every part of the kitchen. The chimney is an area which lets the smoke and oil that is released when we are cooking something. However, all these impurities don't always get out; some of it gets clogged inside it. Therefore, chimney cleaning and sweeping are necessary services. We, at Mister Chimney Cleaning and Repairs Inc., is the right choice for you. Having been established in 1991, we have served several clients in the past who need chimney sweep services. We have advanced equipment and smart and well-trained experts to carry out this process for you. We also further guide you on how to maintain your chimney better. So, if you are from areas such as Fremont, Hayward, Mountain View, Palo Alto, San Francisco, or San Mateo, then you can resort to us.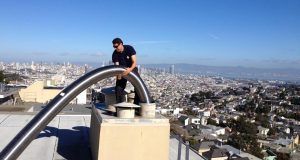 Here, we have enlisted a few crucial ways in which you can find a good chimney sweep service. Take a look.
Ask Around
The right way to find a good chimney sweep and service is by asking around. Look for people who have a chimney at home and hire professionals to do this job.
Research on the Internet
Next, you will be able to find a chimney service by searching about a good chimney sweeping service on the internet. Read the reviews and ratings to understand which one is a popular service.
And if you think we can provide you with a great service for your chimney sweeping, then you can contact us now.