Chimney Repairs Serving Fremont, Hayward, Mountain View, Palo Alto, Redwood City, San Francisco, San Mateo, Belmont CA, and Surrounding Areas
As experts in all things chimney-related, Mister Chimney has earned a reputation for our ability to handle all types of chimney repair work. From masonry repairs and addressing smoke issues to complete rebuilds, we have the knowledge, equipment, and expertise to meet your needs and exceed your expectations. We are pleased to provide chimney repair services to residential and commercial customers throughout San Francisco; Belmont, CA and the surrounding Bay Area.
Here are just a few of the ways we can serve you:
Chimney Pointing
If you notice the joints between the bricks are missing, have become soft, or are starting to crumble, your chimney may require repointing. Be sure to contact us at the first signs of an issue, so we can prevent further damage. Depending on the overall condition of your chimney, chimney pointing may only be required on the affected area. We always recommend waterproofing your chimney after it has been repointed to prevent future issues.
Chimney Waterproofing
Waterproofing is one of the best protections you can provide a recently repaired or rebuilt chimney, and waterproofing is always an essential part of any major chimney repair. The bricks of your chimney are like sponges. When they come in to contact with water, the moisture it slowly seeps in causing the bricks to become weak and eventually crumble. Waterproofing the chimney helps prevent damage. While there are various products available for waterproofing, your chimney requires a product specially designed for that application. Our professional technicians will not only select the right product for your chimney, but they will provide the proper application to ensure your chimney lasts longer.
Chimney Smoke Chamber Repair
The chimney smoke chamber is located in the area above the hearth of your fireplace. Over time it can begin to deteriorate. In the past, this required the removal of the adjoining brickwork and damper frame. However, Mister Chimney is pleased to use Chamber Tech 2000, an excellent product that allows us to perform smoke chamber repair easier, faster, and more economically.
Firebox/ Fireplace Replacement
Firebox repairs can range from a simple lintel seal to a complete masonry revamp, and depending upon the problem, you can choose to do pointing, rebuilding or skim coating an existing fireplace. One of our technicians will go over all of your options in detail and provide a precise estimate for each.
Custom Made Chimney Dampers
A chimney damper is a device that is designed to seal the chimney shut when your fireplace is not in use. Common types of dampers include: the top sealing damper, that is mounted on the crown of the chimney and seals with a rubber gasket, and the throat or convention damper, that rests right above the firebox. While we can custom make either to fit your chimney, top sealing daters are usually preferred because they prevent downdrafts and help reduce your heating and air-conditioning costs, saving you money.
Spark Arrestor Chimney Cap Installation
Chimney caps, also known as rain caps, are designed to prevent the rain from getting into the chimney. Though these caps are not necessary for safe operation of your fireplace, they are highly recommended. A chimney cap prevents damper and firebox rust that can lead to expensive repairs. Additionally, using a chimney cap helps prevent branches, leaves, and animals from entering the chimney and causing blockages. Equipped with a built-in spark arrestor, the cap with its stainless steel screen helps decrease the amount of ash and spark that are usually blow out into the air and on the top of the roof.
Other Services Include:
Chimney Liner Installation
Chimney Ventilation (Correction of Smoke Problems)
Chimney Rebuild & Restoration
Fireplace Restoration & Hearth Repair
Fireplace Maintenance
Chimney Dead Animal Removal
Contact Us for an Estimate & Breathe Life Into Your Fireplace
Chimney Repair Gallery
We removed the chimney down to the flashing area.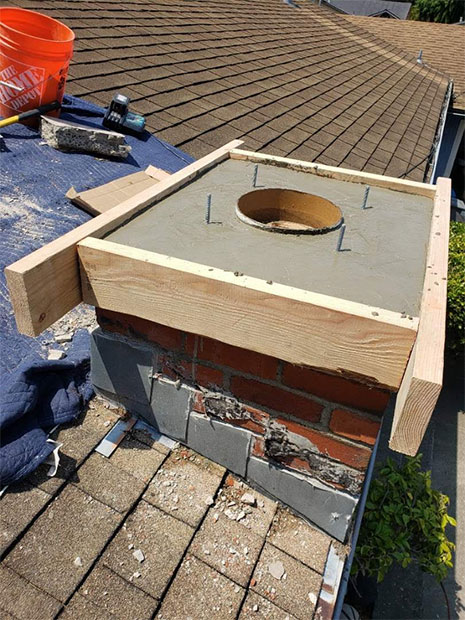 Concrete foundation on top of the chimney flashing for rebuild.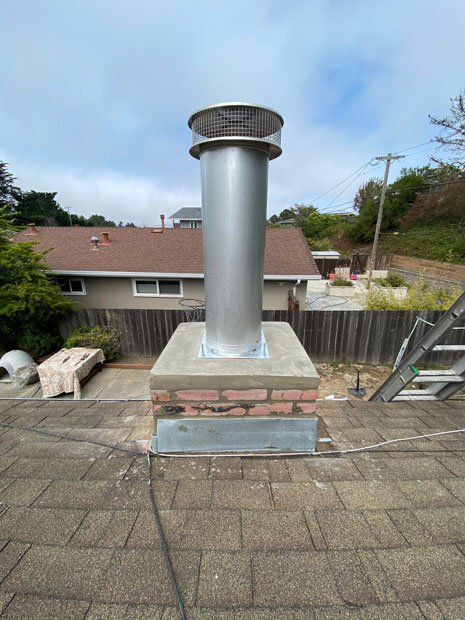 Chimney rebuild with Class "A" flue pipe & Chimney Cap.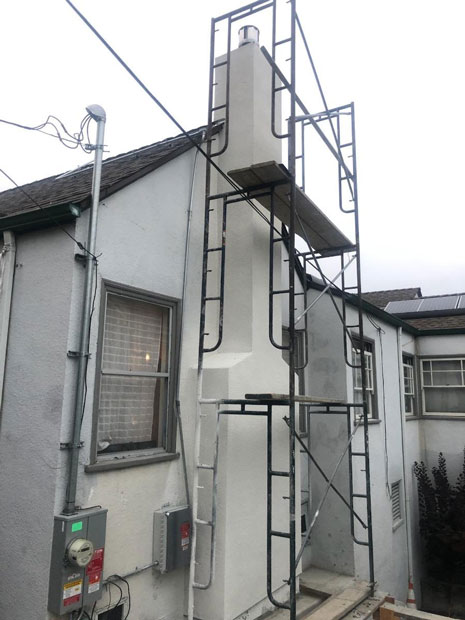 Chimney stucco from the foundation up.