Chimney Sweep & Chimney Cleaning Serving Fremont, Hayward, Mountain View, Palo Alto, Redwood City, San Francisco, San Mateo, Belmont CA and Surrounding Areas
Routine chimney cleaning in San Francisco, and the greater Bay Area is essential to the safe enjoyment of your fireplace. When your fireplace is active, it produces soot and creosote, a tar like substance that can accumulate in the flue. Over time, creosote can buildup, causing unpleasant odors, improper drafting, and in some cases chimney fires. It's important to have your chimney swept every year, or more frequently depending on use. Regular cleanings not only help preserve the structural integrity of your chimney, but they prevent carbon monoxide poisoning and preserve your peace of mind.
At Mister Chimney, we bring nearly 30 years of experience to your chimney sweeping service needs.
In fact, it's our most requested service! Our experienced technicians will prepare the area by laying drop cloths and protecting the area around the fireplace. Using professional equipment ranging from rods and brushes to a high-powered vacuum, they will carefully remove any creosote buildup and identify any blockages. Any issues will be promptly brought to your attention, and we will provide recommendations on how they can best be addressed. Finally, we are committed to cleaning up any remaining residue or soot, leaving the area looking as good or better than we found it. Mister Chimney sweeping services are available throughout San Francisco; Belmont, CA and the Greater Bay Area.
Can I Clean the Chimney Myself?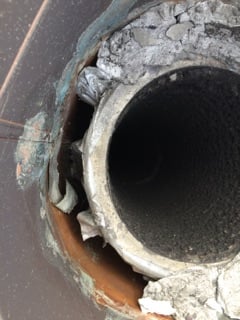 While it's possible for a homeowner to remove some of the debris and soot buildup from the chimney, only an experienced professional can provide a thorough chimney cleaning and identify any serious problems that may be lurking in your chimney. Not only is a chimney professional more knowledgeable than on how to spot and handle hidden problems, but they utilize specialized equipment to complete the work more efficiently. At Mister Chimney, we recognize that we're not just caring for the soundness and safety of your chimney, but also that of your home.
Don't trust your chimney sweeping needs to just anyone!
Contact the experts at Mister Chimney and see for yourself why we have been the trusted choice of San Francisco Bay Area homeowners and businesses since 1991.