Do you have a fireplace? It's it accumulating a tar-like substance every time it's lit? Then, maybe it's time to schedule a chimney sweep for your fireplace. We, at Mister Chimney Cleaning and Repairs Inc., have been in the fireplace industry for the past 2 decades. We know what will keep your fireplace in proper working condition. Our technicians use their years of experience to remove any creosote buildup around the fireplace without making the area grimy. They use rods, brushes, high-powered vacuum and other professional equipment to clear the blockages and restore the functional ability of your furnace. After all the sweeping is done our team cleans up any residual soot, leaving the area just as clean as it was before they started. In the regions of Fremont, Hayward, Mountain View, Palo Alto, Redwood City, and San Francisco chimney sweep is our most requested service.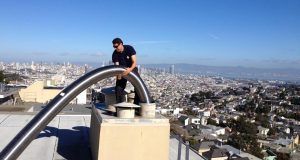 Below we have mentioned 2 top reasons why you should regularly clean your chimney. Take a look.
To avoid creosote build-up
Creosote is the tar-like substance produced as a byproduct when the wood is burned. This can cause fire hazards if not tended to. It has a tendency of clinging on to the inside of the chimney and over time accumulates and creates a musty smoky odor. Eventually, the airflow becomes restricted, reduces draft, and allows less oxygen resulting in the fireplace not getting utilized to its fullest potential.
To maintain the efficiency of your fireplace
Don't wait for bigger and more costly problems to get your chimney cleaned. Regular cleaning will be a more cost-effective and smarter choice for your chimney's longevity. If there is too much buildup in your chimney with soot and other blockages, your furnace will not produce heat as effectively and will begin to run less efficiently. To make sure your fireplace works to its best ability you should schedule regular seeping sessions.
So, if you want to enjoy a beautiful, clean, new fireplace, then call our professionals on 650-654-8888.